Description
This pack contains everything you need to make a healing crystal grid aimed at promoting willpower in your life. Each pack contains all the crystals you need, a free downloadable crystal grid and an organza bag to keep your crystals safe. Contents are as follows:
1 x Willpower Crystal Grid (PDF Format)
1 x Amethyst Cluster
6 x Citrine Polished Tumblestones
3 x Gold Tigers Eye Polished Tumblestones
3 x Red Jasper Polished Tumblestones
3 x Amazonite Polished Tumblestones
3 x Clear Quartz Polished Tumblestones
1 x Organza Bag
The crystals have been selected and the layout of the grid has been designed to promote willpower within the user - this is great for kicking any habits that you want to get rid of. The Amethyst Cluster should be placed at the centre of the grid and the other crystals in a fashion of your choosing, but you can follow the example in our photo if you wish
The crystal grid will be sent via a separate email for you to keep when you checkout and your beautiful crystals have been despatched by our warehouse team
Reviews
Customer Reviews
01/11/2022
Jaime

United Kingdom
This isn't it…
First of all I received my package in a Jiffy bag without any form of protection for the amethyst cluster so it's broken. I'm missing 3 pieces of tigers eye. This is my first time purchasing from this company and I'm happy to say the social media reviews are right stay away!!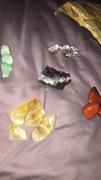 12/26/2021
Miss A.

United Kingdom
Much needed willpower
This pack of crystals is fantastic. Top quality crystals. So glad it finally came back in stock
12/19/2021
Bridgeen

United Kingdom
Will power grid
I received my order with excitement, I opened it and loved everything about it, I think it was a really good buy and great value, I loved the pdf for the grid. Excellent service and value all round..