Roll over image to zoom in
Description
Citronella Essential Oil is extracted as a concentrated form from the plants and leaves of the Citronella plant. Citronella Essential Oil is great oil to use in today's holistic world with many benefits including naturally repelling insects, fighting free radical damage, fighting bacteria and fungi, reducing inflammation, promoting relaxation, fighting respiratory infections and supports digestive health. It is also known to help control pets that have shown behavioural issues.
This is a 10ml bottle of 100% pure Citronella essential oil, sourced from Indonesia. Citronella, like most others can be mixed with a base or carrier oil, or you can add a few drops to your bath water, or to a pillow or tissue. Great for use with either an air diffuser or a bracelet diffuser too.
Customer Reviews
10/29/2020
AIDAN D.
United Kingdom
Citronella Essential Oils 10ml - The Psychic Tree
I was having some problems with a cat and read on line that Citronella Essential Oils could help keepthe cat away, so purchased a small 10ml bottle from The Psychic Tree. The product worked a treat. I just placed a few drops on the windoe ledge and the cat seemed to stay at a distance. I'm convinced it really worked, Good product at a very reasonable price, however the shipping was a bit expensive.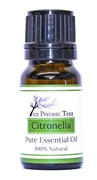 10/28/2020
Lynda F.
United Kingdom
07/01/2020
Samantha B.
United Kingdom
Love it
Really good smells amazing
06/19/2020
Larry
United Kingdom
On believable
It small but it very active have been using different thing to chase the strange cat coming from no where to mess up my garden but this is the best I recommend it. Seen is believing buy it and see .
06/02/2020
Barbara W.
United Kingdom
Citronella 5Stars
Product Solved all our problems no more cat Visitors to the garden Brilliant product
Payment & Security
Your payment information is processed securely. We do not store credit card details nor have access to your credit card information.