Roll over image to zoom in
Description
Part of Bewater's Magic range, this beautiful 650ml glass water bottle contains Red Jasper, Sodalite, Tiger's Eye, Green and Yellow Aventurine Healing Crystals and is specifically aimed towards children. The Magic range is designed to re-ignite your sense of wonder at the world as everyone needs a little magic in their lives. This range is all about bright colours and sparkling combinations bringing the water bottles to life. The glass bottles are different to the plastic counterparts, as they have a removable chamber, meaning you don't have buy different bottles to change your favoured healing crystal power, you can just swap the chambers over. Our range of chambers can be found here
Magic Water brings both the delightful colours of five gorgeous gemstones together, as well as their vitality promoting benefits. With Red Jasper for courage, Green Aventurine for peace, Yellow Aventurine for balance, Tigers Eye for insight and Sodalite for truth, this combination has it all.

These stones have been associated with health improvements in everything from digestion and metabolism to glowing skin and healthy sleep. More than anything, the delight in drinking from the Magic Water bottle will boost your hydration and lift the health of your entire body!
Each bottle comes in a lovely presentation box and are approx. 24cm in height. The bottle has a steel lid and base and is made from BPA free glass. The crystals in the bottles can be charged as per your normal method. Note - these bottles are dishwasher safe
Customer Reviews
10/28/2020
Sarah D.
United Kingdom
Great product, shame about the plastic
This is a wonderful product, however I'm not overwhelmed by the plastic container that the crystals sit in. This isn't an issue with The Psychic Tree, but wi tv BeWater. I expected this to be glass, given I'd bought a glass bottle and don't enjoy using plastic products and feel the energy from the crystals would be better in glass. Love the product, just wish BeWater would remove the plastic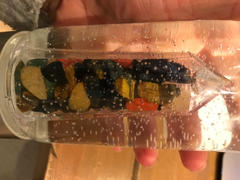 02/27/2020
twkb@btinternet.com Berry
United Kingdom
Great Service
Easy to order and pay, partial return / exchange was easy and partial refund processed swiftly. Great service - thanks!
Tastes like 'Magic'
Love my new glass water bottle and I can't believe how different ordinary tap water tastes when drinking from this bottle. Such a wonderful bottle i'm drinking far more water each day because the bottle makes the water taste beautiful!!
Good experience
Very good service , fast and efficient . Good website , clear and easy to navigate . Please with product. Very please with free crystal grids- great idea
Payment & Security
Your payment information is processed securely. We do not store credit card details nor have access to your credit card information.