Description
A beautiful backflow incense burner in a coloured lotus flower design. When the cone is lit the smoke from the cone cascades downwards in a mesmerising waterfall effect to pool at the bottom. Beautiful to watch.
H:4.5cm, W: 7cm, D:7cm
Only backflow incense cones should be used with this product – standard incense cones will not create the desired effect. It is normal for cones to take up to 10 minutes after being lit to start creating the smoking/mist effect.
Please note that after burning it is normal for a light oily residue to appear on the oil burner, for this reason we recommend protecting any furniture it is placed upon suitably. The residue can be easily wiped off the burner with a damp cloth
Reviews
Customer Reviews
10/23/2021
Isabel A.

United Kingdom
Such beautiful work.
Such a gorgeous piece. I haven't stopped using it since I've bought it!
08/28/2021
neve

United Kingdom
slightly disappointing
works perfectly and looks beautiful, however the residue of the incense cone dribbled through the holes and when i wiped it off the paint came off with it. there's no way to stop this from happening and its a shame because its a beautiful burner.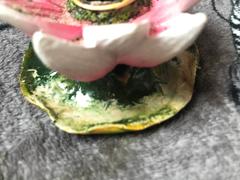 11/02/2020
claire m.

Ireland
beautiful
Amazing so beautiful to watch when in use